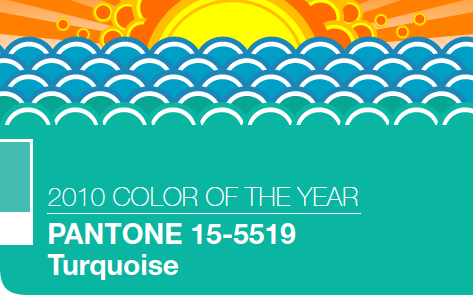 Pantone's 2010 Color of the Year is PANTONE 15-5519 Turquoise.
Pantone paints a portrait of turquoise: "Combining the serene qualities of blue and the invigorating aspects of green, Turquoise inspires thoughts of soothing, tropical waters and a comforting escape from the everyday troubles of the world, while at the same time restoring our sense of well-being."
The executive director of the Pantone Color Institute®, Leatrice Eiseman, said,"In many cultures, Turquoise is believed to be a protective talisman, a color of deep compassion and healing, and a color of faith and truth, inspired by water and sky. Through years of color word-association studies, we also find that to many people, Turquoise represents an escape, taking them to a tropical paradise that is pleasant and inviting – even if it is only a fantasy."
The choice of this color has many reasons. Not only are people said to respond positively to turquoise it is also flattering for both men and women.
Pantone officials explain in their official press release that, " With both warm and cool undertones, Turquoise pairs nicely with any other color in the spectrum. Turquoise adds a splash of excitement to neutrals and browns, complements reds and pinks, creates a classic maritime look with deep blues, livens up all other greens, and is especially trend-setting with yellow-greens."
What else happened in 2010:
[
]