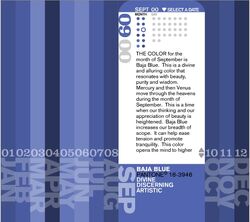 Colorstrology in partnership with Pantone, Inc has created a color palette for every month and every date within the month. They are designed to help you understand your personality and "numerological" significance for your special date. Every month and date has a unique color just as every person is unique.
Color of the Month
[
]
The color for September is Baja Blue. The color represents beauty, purity, and wisdom. People born in September have a natural appreciation for beauty and see things in depth. Surrounding ourselves with Baja Blue helps us with patience and eloquence.
Traits
[
]
Divine
Discerning
Artistic
Quiet
Anxious
September 1
The color of September 1 is Smoke Blue. People born on this h are gentle and friendly with inner strength and intelligence. They also tend to be independent but generous with supporting others. Surrounding ourselves with Smoke Blue brings balance into our lives.
Efficient
Organized
Smart
Links
[
]