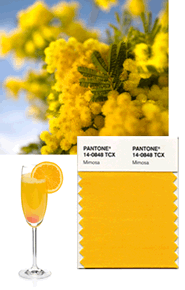 Pantone 14-0848 Mimosa a warm, engaging yellow, is the color of the year for 2009.
The symbolism of yellow is one of the reasons Mimosa was chosen. "In a time of economic uncertainty and political change, optimism is paramount and no other color expresses hope and reassurance more than yellow," according to the press release from Pantone.
The bright cocktail and flowers of a Mimosa tree are perfect examples of the feeling this color conveys.
"The color yellow exemplifies the warmth and nurturing quality of the sun, properties we as humans are naturally drawn to for reassurance," explains Leatrice Eiseman, executive director of the Pantone Color Institute®. "Mimosa also speaks to enlightenment, as it is a hue that sparks imagination and innovation."
What else happened in 2009:
Avatar grossed over $2.7 billion dollars and became the highest grossing film in history.
April- The World Health Organization expresses concern about the spread of influenza from the United States and Mexico.
June- Pop star Michael Jackson dies after suffering cardiac arrest.
The International Olympic Committee announced that the 2016 Summer Olympics would be held in Rio de Janeiro.