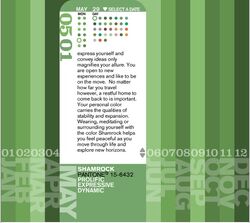 Colorstrology in partnership with Pantone, Inc has created a color palette for every month and every date within the month. They are designed to help you understand your personality and "numerological" significance for your special date. Every month and date has a unique color just as every person is unique.
Month=
[
]
Bud Green, PANTONE 15-6442
Traits
[
]
Healing
Rejuvenating
Prosperous
May 28
[
]
Shale green, PANTONE 16-6116
[
]
May 3
[
]
Juniper, PANTONE 18-6330
May 4
[
]
VINEYARD GREEN PANTONE 18-0117
PEOPLE MAY look at you in awe as you move through your daily activities. You can handle some of the most stressful situations with calm and grace. You are persistent and loyal but still need to have fun. Dancing and interacting with lighthearted people offers you fulfillment and happiness. Your personal color symbolizes prosperity and growth. Wearing, meditating or surrounding yourself with Vineyard Green helps you feel grounded as you search for answers to some of life's most important questions.
May 13
[
]

PIQUANT GREEN PANTONE 17-0235
SOLID
INTERESTING
PERSISTENT
THERE IS something unusual and provocative about you. People find you interesting and attractive. You are solid and persistent and continue to pursue as others give up. You know how to move toward your goals. You will be asked to change and adapt to different situations as you move through life. Your personal color helps you change with the times. Wearing, meditating or surrounding yourself with Piquant Green reminds you that there are different ways to achieve your desires and that the skills you acquire on the journey enrich you as much as arriving at your final destination does.
May 21
[
]
PERIDOT PANTONE 17-0336
DRAMATIC
POISED
KNOWLEDGEABLE
YOU are extremely intelligent and love to learn. Being productive is important to you. You need to move physically toward your dreahbgbbms and not get stuck in fear or confusion. Your answers come to you through faith and action. Your personal color helps ease any worry that you may be carrying. Wearing, meditating or surrounding yourself with Peridot helps ease financial pressures and connects you to the spiritual side of your nature and your true calling.
Links
[
]