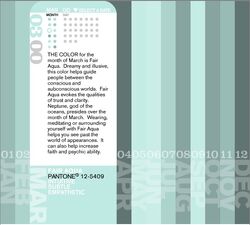 Colorstrology in partnership with Pantone, Inc has created a color palette for every month and every date within the month. They are designed to help you understand your personality and "numerological" significance for your special date. Every month and date has a unique color just as every person is unique.
Color of the Month
[
]
The color for March is Fair Aqua. People born in March are dreamy and illusive. Surrounding ourselves in Fair Aqua helps you penetrate the barriers of appearances while increasing faith and psychic abilities.
Traits
[
]
Intuitive
Subtle
Empathetic
March 1
The color of March 1 is Pistachio Green. People born on March 1 are talented and endlessly creative; they're optimistic and inspire others. Surrounding ourselves in Pistachio Green helps you follow your aspirations.
Inspirational
Artistic
Determined
Links
[
]