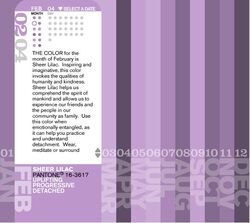 Colorstrology in partnership with Pantone, Inc has created a color palette for every month and every date within the month. They are designed to help you understand your personality and "numerological" significance for your special date. Every month and date has a unique color just as every person is unique.
Color of the Month
Edit
The color for February 24 is Sheer Lilac. Pantone says those born in February 24 are inspiring and imaginative with kind natures. Sheer Lilac is a color that opens you up to people while allowing you to calm yourself in stressful situations. Surrounding ourselves with Sheer Lilac will enhance spirituality and compassion.
Uplifting
Progressive
detached
The color of February is Burnished Lilac. People born in February are strong and independent. They're good at making decisions and being considerate towards others. Surrounding ourselves with Burnished Lilac promotes flexibility.
Independent
Perservering
One-pointed
Community content is available under
CC-BY-SA
unless otherwise noted.